The statue of Liberty weathering the storm today. (A pic from the movie The Day After Tomorrow)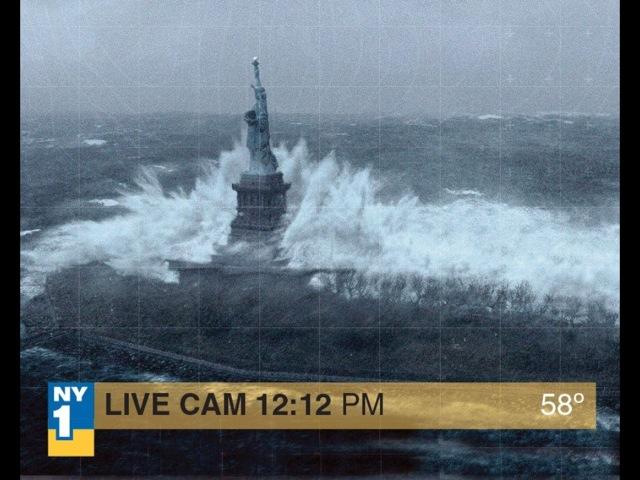 Here in Hell's Kitchen it's a mild October Day, a bit drizzly. Very low barometric pressure so I feel very sleepy.
The view out my window just now.
The real trouble is in the storm surge, the flooding that has already started to occur.
And there's a partially toppled crane at 157 West 57th Street, the gazillionaires building, between Sixth and Seventh Avenue, eight blocks away, that looks like it lost its, er, oomph.
Waves wash over the seawall near high tide at Battery Park in New York, Monday, Oct. 29, 2012, as Hurricane Sandy approaches the East Coast. (AP Photo/Craig Ruttle)
Here is a photo of the flooding on the FDR Drive in New York, courtesy of HuffPost's Mike Ryan

Liz Robbins/The New York Times
They were crestfallen, whimpering in disbelief. The city's dogs walked right up to an east side entrance of Central Park, saw the fence and could not fathom why they – and their owners – were not allowed in. For a little wind? Light rain? They had seen worse.
"I may have to carry him away," said John Blondel, nodding to Rollo, a spry-looking white Labrador who was 10 and a half years old. Rollo decided to engage in a sit-down strike in front of the 79th Street entrance on Fifth Avenue.
Mr. Blondel, 56, who is in the investment management division for Goldman Sachs, had driven from his apartment in the West Village to give Rollo his daily constitution. Later, he would work from home. "This is going to be it for a while," he said to his friend.
Soon, Rollo was joined by several other dogs dragging their walkers to yet another blocked entrance. "They're just amazed," Mr. Blondel said.
When a gust of wind blew an opening in the temporary fencing, Rollo was wise to the opportunity. Mr. Blondel had to pull him back and head to the car.
The city's parks had been closed since Sunday evening, and the morning scene was an abject one indeed. As joggers dashed by on the slippery, leaf-laden sidewalk adjacent to the park – some took advantage of the empty bus lanes to run in the street – they had to dodge the dogs, who were similarly displaced from their morning routine.
and
Mr. Bloomberg said that about 3,000 people had come in to city shelters, a tiny percentage of the 370,000 covered under the evacuation order, most of whom are presumably staying elsewhere. Pets are allowed at shelters, and the mayor said that about 70 had been brought in.
Red Hook, Brooklyn is flooded
Out at the end of Long Island in Sag Harbor
Long Wharf in Sag Harbor; 9:24 am, Monday
On Twitter, enjoying the
#
Sandy
tweets
Somebody prayed for less Election coverage, and thus
#
Sandy
was born.
#
Sandy
, if we haven't made this clear enough, the Humans of the Eastern Seaboard would like to sacrifice Goldman Sachs to your angry gods.
Sunday 10/28/2012 01:47:00 PM
At least it's not like this yet:
Or this: