After the storm, a rainbow. A double rainbow for a superstorm.
Kurt Wilberding
, a fashion and street
photographer
, snapped this Instagram photo in lower Manhattan, after Superstorm Sandy made its way through New York City.
The photo above is called
The Day After Yesterday
, taken by Noah Kalina
.
A beautifully written New York Times article about the people who died in Hurricane Sandy.
Published: October 30, 2012
Cars flooded in East Village.
pic.twitter.com/kA3m34WX
Image courtesy
@gosha83
Flooded subway station via
Imgur
A flooded subway station in New York City.
The subways are likely to be down for at least several days. Power outages south of 40th Street may continue for most of the rest of the week.
Lincoln Tunnel is working.
The Halloween Parade that usually happens every year will not take place this year because it would take up too much of the city's resources that need to go into helping those in real danger or distress after the storm.
Some of the bridges are working again.
The parks are closed because of the danger of falling branches.
NYC schools will be closed for the third day.
If you go outside at night take a flashlight, especially if you cross any street south of 40th Street. There are no street lights or traffic lights.
FDR flooded at 81st Street and the East River.
Image courtesy @GarrettGleeson
A fallen tree blocks a street on the Upper East Side of Manhattan
A fallen tree down near park benches in Manhattan's Upper West Side
Cars on Avenue C and 7th Street are submerged in floodwater which flowed through the city after Superstorm Sandy arrived
Shop owner Amanda Zink begins the arduous task of cleaning her store The Salty Paw, which was completely flooded on the waterfront of lower Manhattan
A cordon is put up around scaffolding which collapsed in New York after Superstorm Sandy caused widespread damage in the city
Tree down. I
mage courtesy Instagram user
happyhour420
On the news just now, there are 7000 trees down in NYC.
A fallen tree at Cooper Square in the East Village, New York, after Superstorm Sandy battered the city
Image courtesy
Nirnroot
Wow. Gate C34 at New York's LaGuardia Airport
Image courtesy
twitpic.com/b8tfjy
La Guardia Airport is closed indefinitely.
Image of ambulances waiting at NYU medical center
Image courtesy
@bananaram
s
#sandy
pic.twitter.com/PH2fdmSy
The evacuation of NYU hospital in the pitch dark. Patients were slid down 9 flights of stairs on 'sleds', one by one for hours.
What is the most dangerous now is that because of the loss of electricity below 40th street, there are no traffic lights. People are walking out without flashlights. There are few or no traffic cops.
For many of the people living in high rise buildings south of 40th Street, the loss of electricity means the water pumps are not functioning and they have no water. Health aides who live in Queens and Brooklyn cannot get to Manhattan to help the elderly. Many elderly cannot negotiate the stairs, are in wheelchairs and are without water. They also may not have heat. No light, no water, cannot flush toilets, unable to get out.
I am going to volunteer tomorrow and see what I can do to be of practical help.
Truck underwater at Battery Park underpass. That truck is about 8ft high - gives sense of depth Image courtesy
Adam Gabbatt
@
AdamGabbatt
pic.twitter.com/tVrxnvcH
Taxi hit by a huge tree branch while driving on the Upper West Side NYC - wife took pic walking the dog Image courtesy
@elopez_nyc
#HurricaneSandy
pic.twitter.com/Suv7OP5A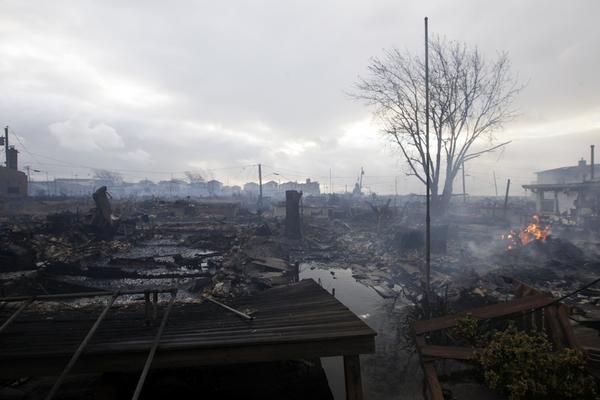 This fire in Breezy Point, Queens last night. So horrible. 80-100 houses destroyed.
Image courtesy
BuzzFeed
@
BuzzFeed
Breezy Point devastation. Image via AP.
New York City resident Gary He posted this picture with the caption 'Dude in snorkeling mask trying to rescue his friend in Greenpoint (Brooklyn)'
Breezy Point devastation. Image via AP.
Beached: A 168-foot water tanker, the John B. Caddell, sits on the shore where it ran aground on Front Street in the Stapleton neighborhood of New York's Staten Island. Image via AP.
On the news now they said 110 homes burned down in Breezy Point.
Before and After photos of Funtown Pier. Image courtesy
24 hour Duane Reade on Wall Street is still open. About 10 to 15 people here, shelves empty. Image courtesy
patrickdehahn
yfrog.com/nyp7kauj
#sandy
A parking lot full of yellow cabs is flooded as a result of Hurricane Sandy in Hoboken. Image courtesy
@AllFamKid
pic.twitter.com/bDawgr7Q


In Brooklyn, image via AP
An Oyster in the Storm: the oysters that once protected New Yorkers from storm surges, a bivalve population that numbered in the trillions and that played a critical role in stabilizing the shoreline from Washington to Boston.
(Photo: Stan Honda, AFP/Getty Images)
AmTrak is resuming service in a very limited way. First, they'll need to take the storm debris off the tracks.
A boat rests on tracks at Metro-North's Ossining Station on the Hudson Line on Tuesday in the aftermath of Hurricane Sandy, in New York.
A man and child look in disbelief at a collapsed house in the Cosey Beach neighborhood of East Haven, Connecticut
It's snowing post Hurricane Sandy in West Virginia, image via
Imgur
Blizzard in Appalachia
. "Superstorm Sandy buried parts of West Virginia under more than a foot of snow on Tuesday, cutting power to at least 264,000 customers and closing dozens of roads. At least one death was reported. The storm not only hit higher elevations hard as predicted, communities in lower elevations got much more than the
in lower elevations got much more than the dusting of snow forecasters had first thought from a dangerous system that also brought significant rainfall, high wind gusts and small-stream flooding."
Flood water is toxic. It is polluted with sewage, petroleum and other toxic waste.
Tip #1: Boil or Bleach Your Water
According to Besser, "For a boiled water advisory you need to boil your water for at least one minute of full boil. If you don't have power and can't do that you can take a gallon of water and add eight drops of bleach to that water and that will make that safe to drink."
Tip #2: Wait to Clean Out the Floods
"You want to have good light so you can see what you're doing," Besser said. "When you have a couple of feet of water in your basement there may be sharp objects. There may also be electrical problems when you're going into a basement that has water."
Tip #3: Wear Protective Gear
"You don't want it to come in contact so you want to wear boots and rubber gloves and goggles so that it's not irritating your skin and you want to wash off very well after doing that [cleaning]."
Tip #4: Pitch Any Flood-Tainted Food and Water
Any food, any water, even in a sealed package, that has come in contact with flood water, you want to get rid of that," Besser said. "The one exception for that is canned goods. You can take the labels off and either boil those cans or you can soak those cans in a bleach solution and then rinse those with clean water and use them."
MTA bus status:
Partial Bus Service Restored
Bus Service Operating 10/30/2012
Bus Service Operating 10/30/2012
Click borough names for PDF maps:
M2, M5, M8, M11, M14, M15, SBS15, M34, M34A, M22, M57, M60, M86, M96, M101
Bx1, Bx6, Bx7, Bx8, Bx10, Bx12, SBS12, Bx16, Bx23, Bx27, Bx36, Bx38, Bx40, Bx41, Bx55, Q50
B1, B3, B15, B35, B41, B44, B46, B61, B82, Q58, Q59
Q4, Q6, Q7, Q10, Q12, Q22, Q23, Q25, Q33, Q46, Q50, Q60, Q65, Q66, Q69, Q101, Q113
S40, S46, S48, S53, S59, S61, S62, S74, S78, SBS79
Some routes may be operating with minor detours due to street conditions, customers are advised to look for signage at bus stops.
MTA main page
M5 bus heading to South Ferry Tuesday night after partial service resumed
Passengers boarding an M15 bus tuesday night after service resumed
Please
donate to the Red Cross
to help with disaster relief
If you want to or can help:
Occupy and Sandy Storm Recovery Resources
http://interoccupy.net/occupysandy/
Occupy Wall Street &
350.org
have teamed up with
Recovers.org
– a people-powered disaster relief platform – to help coordinate response to Hurricane Sandy in NYC. At Recovers.org we are launching support pages where people can GIVE help or post a NEED. For ongoing updates and info about this evolving relief effort, and to find out how you can help, be sure to sign up and stay informed at the Occupy Sandy Hub!
Support Pages